Letter from the CEO
DEAR SHAREHOLDERS,
2020 was a year like no other. When we started out, we were looking forward to a great year of sport, with the UEFA EURO 2020 and the Olympic Games in Tokyo at its core. And with the strong development adidas has seen over the last four years, we were well on track to achieving all the long-term targets we had set out in our strategy 'Creating the New'.
Then covid-19 struck the world with full force. The global pandemic presents a crisis on a scale many of us have never experienced before. The toll it has taken on human life is heartbreaking, while it has also caused the largest economic downturn for decades.
Covid-19 first hit adidas in late January in China. By mid-March, Europe, North America and Latin America had also gone into lockdown. Within the space of just three days, 70% of our stores – and those of our partners – had closed. We were suddenly put in a position where we were losing revenue, while our costs continued to roll in. We reacted quickly. There is no blueprint to deal with a crisis like this, but within just a few days we had adjusted our operations to address the situation at hand.
The health and safety of our employees is our top priority
From the very beginning of the pandemic, our focus was squarely upon two things:
Securing the well-being, health and safety of our own employees, and of our suppliers.
Steering the company successfully through this unprecedented crisis.
I am proud to report that we achieved both.
We implemented comprehensive hygiene standards across all our locations and provided our employees with clear guidance – including the preventive measures they should take. We also closed stores and offices when required, in line with local regulations. Even today, the vast majority of our employees are working from home, but we reacted quickly to provide them with the tools that would enable them to do so. We also successfully safeguarded jobs throughout the entire year and rewarded our employees with an appreciation payout of € 1,000 each for their extraordinary commitment.
2020 financial results
Despite all the challenges, we used 2020 to make adidas a better company. Our business recovered quickly after having hit the lowest point in the second quarter and returned to growth in the fourth quarter. We connected with more consumers than ever before and expanded our digital capabilities and reach. We continued to invest in sustainability and our people. Last but not least, we increased our operational and financial flexibility. As a result, we are now well positioned to tackle both short-term uncertainty and long-term growth.
Not surprisingly, our financial results were significantly impacted by the negative effects of the coronavirus pandemic. Revenues decreased 14% on a currency-neutral basis due to the widespread store closures and lower traffic once stores reopened. Revenues in Russia/CIS remained flat, while currency-neutral sales were down in all other major market segments. We were able to achieve a gross margin level of 49.7%, limiting the decline to 2.3 percentage points through a disciplined sell-in in a very promotional industry environment. As a result of the revenue shortfall, the company's operating margin decreased 7.5 percentage points to 3.8% and net income from continuing operations decreased 78% to € 429 million.
Exceptional growth in e-commerce
Overall, the global pandemic accelerated our focus on digital. We took decisive actions to focus on digital acceleration by moving available inventory to e-commerce, invested in an agile digital content studio, shifted marketing, resources and tech budget toward digital and made sure our day-to-day decisions are data-driven with a clear focus on consumer insights and trends. As a result, our e-commerce business was up 53% on a currency-neutral basis for the full year, exceeding € 4 billion for the first time in the history of our company.
Consumer at the center of everything we do
Our digital capabilities helped us to put our consumers at the center of everything we do. The lockdown saw the launch of our most successful digital campaign ever: #hometeam. This campaign was seen by more than 400 million people worldwide, with over 3,000 of our athletes and partners getting involved. With sporting events resuming in many regions in the second half of the year, we launched our next successful digital campaign: 'Ready for Sport'. It was great to see our athletes and teams back in action, winning titles and setting records in our innovative products. Kenyan runner Peres Jepchirchir broke the half-marathon world record in our Adizero Adios Pro shoes twice, FC Bayern Munich won the UEFA Champions League, and Dominic Thiem claimed his first Grand Slam title at the US Open, just to mention a few.
Continued investment in sustainability
Sustainability is an integral part of the adidas business philosophy. We continue to invest in sustainability initiatives and, in 2020, we significantly broadened our range of sustainable products and are ahead of our plan to have virgin polyester removed from our products by 2024. As part of our partnership with the environmental organization Parley for the Oceans, we produced 15 million pairs of shoes using recycled plastic waste collected from beaches and coastal regions. We expanded our vegan product offering and completely banned the use of fur.
At our corporate sites, we operate modern facilities to generate environmentally friendly energy. We are also working closely with our suppliers to implement climate and environmental protection measures at their sites. Our objective: to reach climate neutrality by 2050, globally.
Commitment to accelerating diversity and inclusion
In many respects, we are already a company that leads on diversity issues. adidas is international to its very core. People from over 100 nations work at our corporate headquarters in Herzogenaurach alone and the Executive and Supervisory Boards both have strong international representation. We have also made progress in increasing the number of women in leadership positions. Our target for the end of 2020 was to have women make up 32% of our leadership positions. We exceeded this target with 35%.
However, it came to our attention as a result of many individual conversations with our employees – in particular with our Black employees – that diversity and inclusion was not being lived consistently across our company. Many employees told us – and told me personally – that they believe there are not enough equal opportunities for all. This is not acceptable. It is a top priority for us to make adidas an even more diverse and inclusive company. In order to do so, we acted upon the following commitments:
Establishing a global Committee to Accelerate Inclusion & Equality.
Signing the Juneteenth Pledge and organizing our first Global Day of Inclusion for all of our employees, which will now become an annual company event.
Launching a mandatory Diversity and Inclusion training for all employees.
Setting new targets in the US for increased representation of Black and LatinX people within our US workforce. Our aim is to fill at least 30% of all new positions with Black and LatinX people.
Funding 50 university scholarships in the US each year for Black and LatinX students.
Investing $

120 million

in the US toward ending racism and supporting Black communities through to 2025.
We will continue this important journey – together with our employees and partners – to create an adidas we can all be proud of.
Increased financial flexibility
To successfully navigate the company through 2020, we switched our financial focus entirely onto managing our cash in- and outflows when the covid-19 crisis hit us in March. Our measures included the establishment of strict cost and working capital controls, the reduction of management compensation, the stop of the share buyback program as well as the suspension of dividend payments. In addition, we took further steps to guarantee the company's financial flexibility with approval from the German government for a syndicated credit facility amounting to € 3 billion from a consortium of banks including KfW, Germany's state-owned development bank. This facility helped us to bridge the exceptional circumstances that arose from the coronavirus pandemic.
In August, we received strong first-time investment-grade ratings from the two leading rating agencies – Standard & Poor's ('A+' with a stable outlook) and Moody's ('A2' with a stable outlook). adidas is now one of the highest-ranked companies in the sporting goods industry and in Germany. As a result of these ratings, adidas is well positioned to gain access to the international capital market at any time. In September, we successfully placed two bonds with a total value of € 1 billion as well as our first ever € 500 million sustainability bond. In October, we were able to repay the drawn portion of the KfW loan amounting to € 500 million and, in November, we terminated the KfW loan and replaced it completely.
2021 outlook
We all hope that 2021 will be the year in which the world can leave the coronavirus pandemic behind. For us as a company, it will be a milestone year. adidas will play an integral role in important moments in sport and culture. We firmly believe, that through sport, we have the power to change lives. As you read this, we will have launched our new strategy 'Own the Game'. It clearly articulates the business drivers, categories and markets we will focus on to deliver above industry-average growth and create significant value through to 2025. As part of the development of our new five-year strategy, we have assessed strategic alternatives for Reebok and decided to begin a formal process aimed at divesting the brand. In 2021, we will be fast out of the gate in the first year of our strategic cycle and – in combination with our strong product pipeline – expect to drive strong sales growth across all market segments. Specifically, we expect currency-neutral net sales to increase at a mid- to high-teens rate. Profitability will also see a notable recovery. Our operating margin is projected to increase to a level of between 9% and 10%, driven by the strong sales growth, gross margin improvement and continued strict cost control. As a result, net income from continuing operations is anticipated to increase to a level of between € 1.25 billion and € 1.45 billion.
Thank you
2020 was anything but easy. The only way to get through such a year is by working together as a team. Therefore, I would like to extend my heartfelt thanks to our 62,000 adidas employees. They have demonstrated resilience and shown great commitment in these unprecedented times. And I would also like to say thank you to you, our shareholders, for the trust you have placed in us. We will continue to do everything we can to remain worthy of this trust. I am confident of the attractive prospects the sporting goods industry will continue to present for adidas, especially given that many people have developed an increased appreciation of well-being. They want to stay fit and healthy through sports. At the same time, wearing sportswear is becoming more and more popular, in particular for people working from home. adidas will continue to benefit from these trends. As a global leader in our industry with a strong strategy in place, we are very well positioned for the years ahead.
Please take care and stay healthy.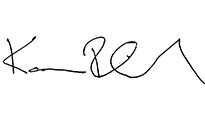 Sincerely yours,
Kasper Rorsted
CEO
Parley for the Oceans
Parley for the Oceans is an environmental organization and global collaboration network. Founded in 2012, Parley aims to raise awareness for the beauty and fragility of the oceans, and to inspire and empower diverse groups such as pacesetting companies, brands, organizations, governments, artists, designers, scientists, innovators and environmentalists in the exploration of new ways of creating, thinking and living on our finite, blue planet.