#hometeam
Together we are stronger than ever
It was at the start of 2020. Remember the plans we had? Celebrating the world's biggest sporting events, empowering our athletes, engaging with our communities, and turning ,Run for the Oceans' into a global movement in our fight against plastic waste. But then, all of a sudden, sport and life as we knew them were put on pause, and lives were at risk.
The #hometeam campaign started out as a way to keep our adidas and Reebok communities healthy, active, and connected. We turned our corporate purpose that, through sport, we have the power to change lives, into action.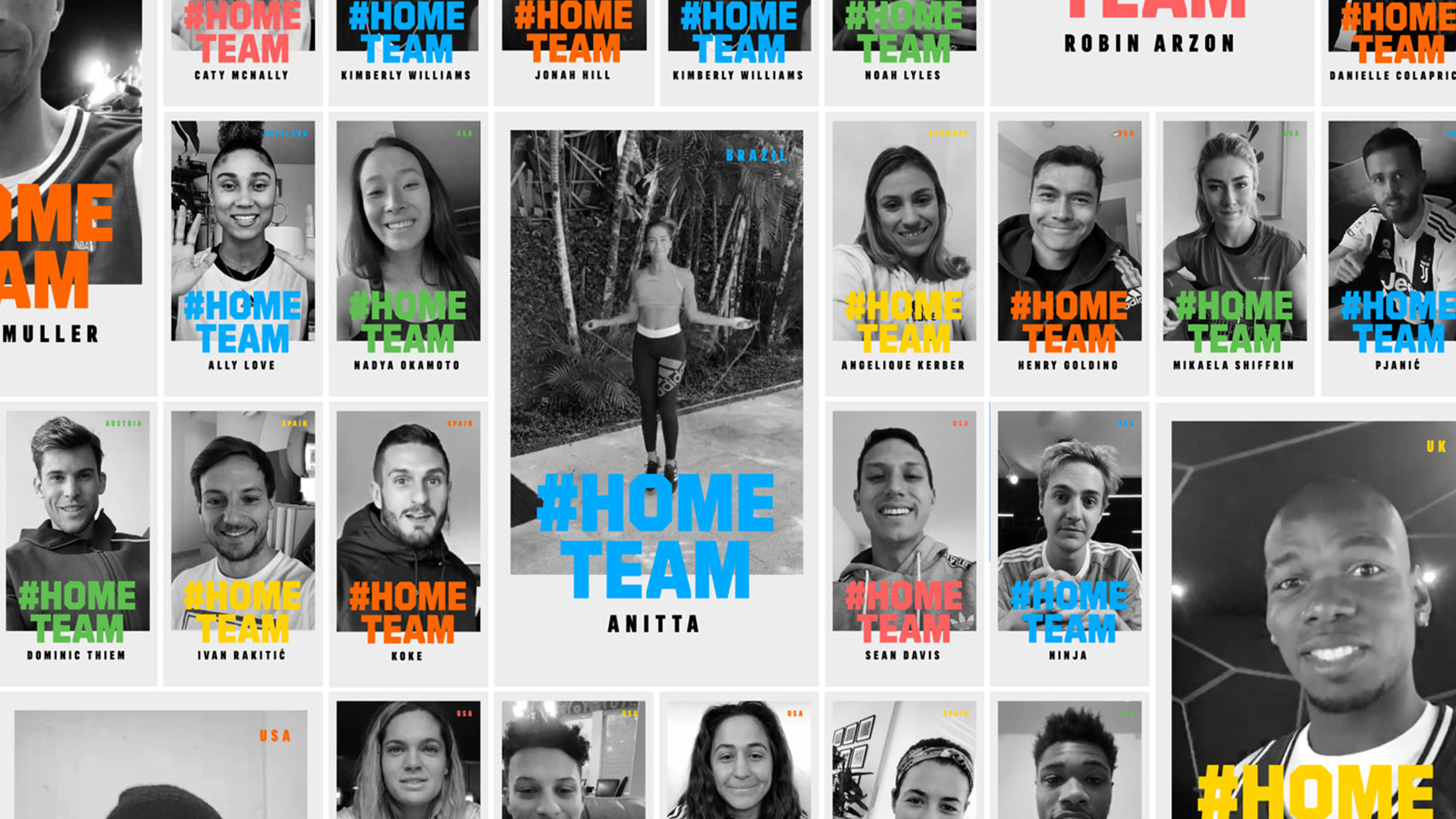 Over the course of a few weeks, we rolled out free virtual experiences across social and digital channels to support our community in staying active, practicing mindfulness, learning, and seeking entertainment. Everyone, from our employees and communities to our athletes and artists joined the team, sharing their own experiences of how they creatively took care of themselves and others. Over 3,000 athletes, artists and influencers supported the moment making it the biggest-ever adidas campaign in terms of partner activation and involvement. #hometeam content was viewed close to 400 million times and is one of the most watched and positively received campaigns in the brand's history.
While the world waits – the first episode of our 'Ready for Sport' campaign was launched to spark positivity and hope during a year that was marked by lockdowns and restrictions for many people.
#hometeamhero
Every active minute counts
During the covid-19 crisis, countless frontline workers stepped up, took charge, and made a difference. With the #hometeamhero challenge, adidas offered a way to give back and say thank you to all those heroes who never stopped moving for us.
Back in May, we invited our teammates around the world to rally and dedicate their workouts to a good cause: For every hour of tracked activity in our adidas Running and Training apps, we donated one dollar to the covid-19 Solidarity Response Fund of the World Health Organization.
The result of this collective effort was the creation of a global digital sports event where everyone was invited to participate to help reach the one-million-hour goal, making every minute count, regardless of sport, discipline, ability level, or current stage of lockdown.
Ready for Sport
Opportunities will come, and we must be ready
Last year, the world came to a standstill with our normal sport, work, and school routines put on pause, and a new way of living emerged, reflecting our experiences made during the lockdowns.
As sport started to resume, we launched 'Ready for Sport: The Series', with unique insights into how the world's leading athletes were getting ready for their biggest comeback. From the All Blacks, Mikaela Shiffrin, Candace Parker, Donovan Mitchell to the adidas Runners and many more – they all shared their journeys through the lockdown back to sport.
With the 'Ready for Sport: The Anthem' campaign film we reflected on recent sporting history and celebrated the true magnitude of what sport brings to the world. We celebrated sport as we had never done before. With a bold opening line 'Sport might not be the answer right now', the film was about exploring how sport can bring communities together. A symbol of joy, optimism, and resilience.
'Now that sport is back, we can't waste this chance. We should be playing with more heart and more fire, because nobody knows what the future holds. Opportunities will come, and we must be ready.'
With 'Ready for Sport: The Anthem' we celebrate the power of sport and the reward we get from it: joy, pride, and the clear message that nothing is impossible.