Adizero Adios Pro
Record-breaking technology
In 2020, we introduced our newest member of the award-winning Adizero family: the Adizero Adios Pro.
The story of the Adizero franchise began in Berlin in 2008, when Haile Gebrselassie broke his own marathon world record and became the first person to run the race in under 2 hours and 4 minutes – wearing the Adizero Adios.
A decade later, the Adizero Adios Pro was created by a dedicated team. The shoe embodies the spirit of co-creation. We worked with world-class athletes – including Joyciline Jepkosgei and Rhonex Kipruto – whose continuous feedback contributed to the development of prototypes and challenged everything previously understood about bending stiffness, energy return, mass reduction and design geometry. This collaborative approach led to a breakthrough in the the shoe's design technology, called EnergyRODS. EnergyRODS consist of five tuned carbon-infused rods, which mimic the metatarsal bones of the foot, allowing runners to maintain their speed for longer, optimizing running economy, and creating less physical impact on the body. And the effort paid off: In September 2020, adidas athlete Peres Jepchirchir made it into the history books after running a record-breaking time at the half marathon in Prague, Czech Republic. She crossed the line in 1:05:34 wearing the adidas Adizero Adios Pro – our fastest running shoe ever.
The Adizero Adios Pro running shoe embodies the spirit of co-creation.
adidas x Ivy Park
'This is my park'
adidas and Beyoncé released their second product offering – the Drip 2 collection – featuring inclusive sizing and gender-neutral performance gear, footwear and accessories. adidas x Ivy Park combines Beyoncé's love of athleticism and fashion with adidas' performance and innovation to push the boundaries of athletic wear and inspire anyone who understands that beauty is more than physical appearance.
adidas x Ivy Park combines Beyoncé's love of athleticism and fashion with adidas' performance and innovation.
Featuring in the 'This is my Park' campaign, Beyoncé asked the consumers to find their park – the place, imagined or real, that defines and centers them – and to celebrate remaining positive and always finding joy as the world faces various conflicts with unknown outcomes. The Drip 2 vivid colorful collection was released in October 2020 and followed by Drip 2.2 'Black Pack' in November 2020.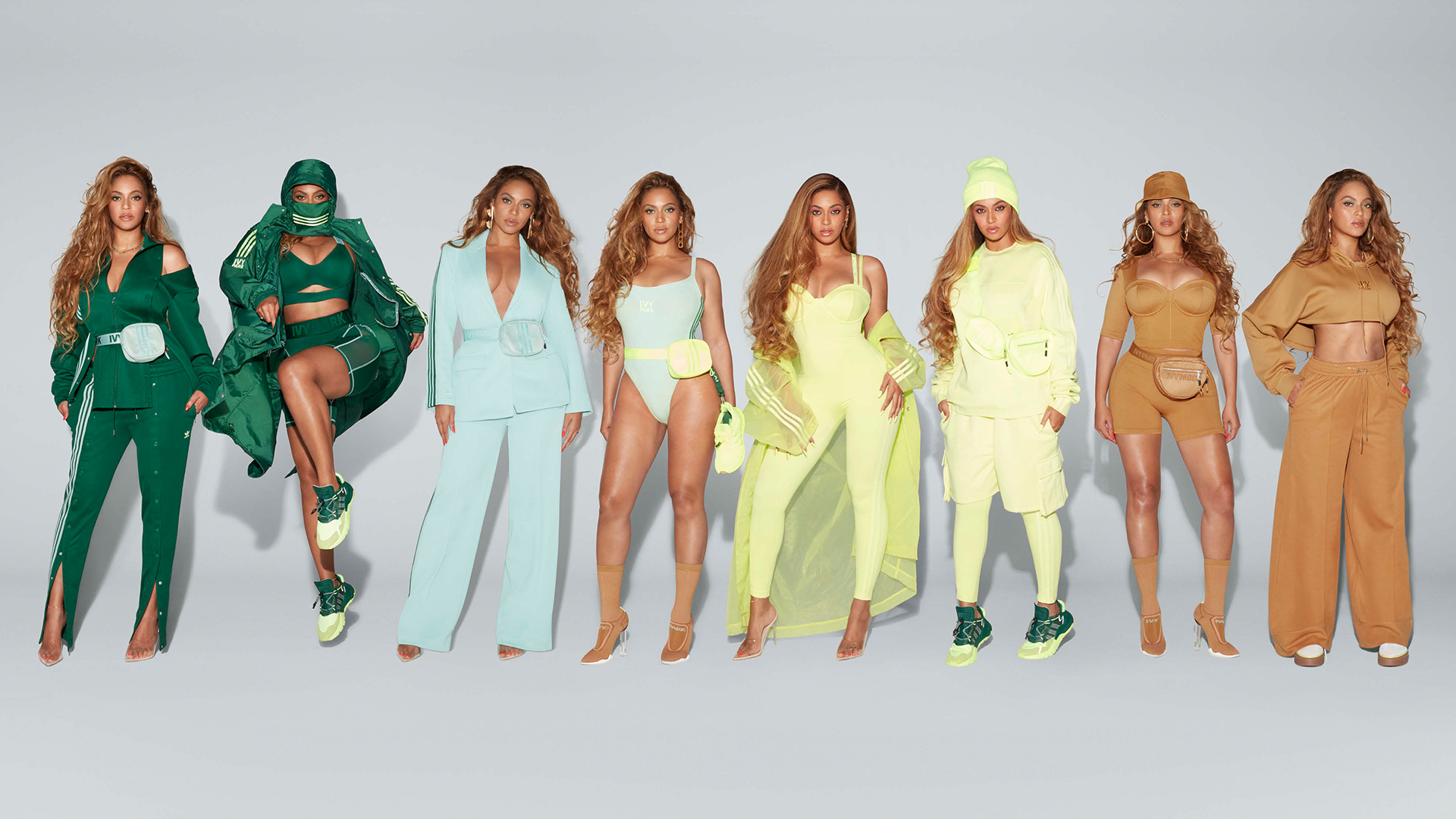 Futurecraft.Strung
Exploring the upper limits
In 2020, we presented a new textile innovation that changes how we create performance footwear – Futurecraft.Strung. The design and creation process of the shoe combines athlete data, additive manufacturing and robotics to create a lightweight upper where each thread is individually selected and data-mapped for a seamless, lightweight fit that cocoons around the foot – all within one piece of material and free from inhibiting excess components.
'Strung' is a textile technology that integrates athlete data into the development of dynamic performance material.
The concept shoe was created to provide a new experience of short-distance training runs at five meters per second or faster, enabling athletes to experience movement and sport in a new way, without any distractions or restrictions. Futurecraft.Strung is the first prototype and not available for purchase yet. We're aiming to launch the first Futurecraft.Strung shoe in late 2021 or early 2022.
adidas X Lego
Never too old to play
In 2020, adidas Originals teamed up with Lego Group for a playful take on the ZX 8000 silhouette, which is part of the A-ZX series. Demonstrating that you're never too old to play, this unique release brings the Danish toy company's instantly recognizable aesthetics to an adidas archival icon.
L is for Lego – we partnered-up with the Danish toy company to create a shoe you are never too old for.
Designed as an ode to the classic Lego brick, the ZX 8000 sneaker is comprised of a multicolor mesh and synthetic suede upper with a rubber outsole. The shoe features co-branded tongue tabs and Lego studs on the heels. Co-branded yellow sockliners, six different-colored lace options, and interchangeable Lego brick lace jewels round off the look. The adidas Originals ZX 8000 Lego sneakers launched globally in September 2020.
50 years of Superstar
Change is a team sport
In 2020, we celebrated the 50th anniversary of one of our most iconic silhouettes: the adidas Superstar. Since its inception, the shoe has stood for those who aren't afraid to stand for something. Throughout its existence the instantly recognizable silhouette has graced the feet of teams and crews at the forefront of culture worldwide. Having changed the game on the court 50 years ago, today the sneaker is made for game changers on and off the field of play.
Celebrating five decades of culture makers, boundary pushers and limit breakers, adidas Originals launched the 'Change is a Team Sport' campaign, which brought together individuals from across the world of music, fashion, sport and art to show that change does not happen alone but can best be achieved when joining together. 'Change is a Team Sport' kicked off with a film directed by and starring Jonah Hill, and featuring a cast of the adidas family of creators.